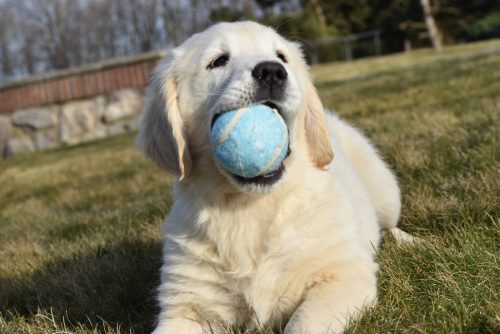 Hello friends! Welcome to Cozy Cabin Goldens! We are a family owned golden retriever breeder in rural Ohio. We strive to raise healthy and happy golden retrievers. Our dogs are raised and live in a very friendly, clean, and healthy environment with lots of room to run around.They do great with both adults and children and they love meeting new people. All our puppies and adult dogs are kept up to date on vet checks, shots, and dewormed. All of our dogs are registered with AKC as well. Please check out our available puppies and upcoming litters! You are more than welcome to come visit us at our home. We also offer a safe and dependable transportation service upon request! Please call or text us at 330 641 7265 or contact us via our website. Thank you and have a wonderful day!   The Mast's
What we offer:
Transportation…we have a safe and dependable transportation that will hand deliver your puppy right to your doorstep! We can bring your puppy to any state in the United States. Air travel is available as well! While it is a little more expensive, your puppy will have a shorter ride! Please note, transportation fees are extra and at buyers expense. Contact us for a price quote to ship your puppy!
Visits… You are most welcome to visit us at our home to pick out a puppy from our litters! Also, if you prefer to pick up your puppy and take them home yourself we will gladly arrange a date and time to meet and give you your puppy!
AKC Registration… All our dogs and litters are registered with AKC. All our puppies come with an AKC form, you just need to fill in your information and send it in, very simple way to register your puppy!
Reserving Your Puppy… We do start advertising our puppies before they are 8 weeks old. It is the Ohio law that a puppy can not leave their mother until they are 8 weeks old. By placing a $200 deposit, you can be assured that we will take care of your puppy and keep it reserved for you until they are old enough to go home with you! We can receive deposits through PayPal!
Photos and Videos… Additional photos and videos are available upon request! If you reserve your puppy, we do our best to keep you updated on information and photos until you take the puppy home!
ENS Stimulation… all our pups are stimulated using the ENS technique from day 3 to day 16.
Health Guarantee…We offer a 2 year health guarantee on all genetic disorders!
Vitamins… We give our dogs NuVet Plus vitamins. Which are daily supplements to help boost their immune system, promote a healthy coat, and basically help them be as healthy as possible! When taking your puppy home, you will receive a sample pack of the vitamins. We very much recommend NuVet, it has been an amazing product for our dogs and they love them! They look forward to their "treat" every morning! (NuVet Joint is also available if you wish, to ensure the best for your dogs hips and joints!)